Nothing but Problems with Dirk
Since September 2021, Dirk Uhlig has been able to call himself "IFSC-Chief Route Setter". Thereby he is officially entitled to create both lead and bouldering routes at international competitions. Next to Christian Bindhammer, he is the only German holding that license.
We talked to him: How did he get into route setting, what did his career path look like, does he still remember the first World Cup and where will it go from here?
Go to German Version | Hier geht's zum Interview in deutscher Sprache: KLICK
---
Caro: Hey Dirk, thanks a lot for being motivated to give us an insight into your story as a route setter and of course congratulations on your award as international chief route setter! 💥🚀
But let's go back to how it all began - tell me, how did you get into route setting?😉
Dirk: When I started climbing in Erfurt, Thuringia, in 2000, I had to start creating my own boulder problems for better or worse. The reason was obvious: I had climbed all routes in my gym quite quickly and was bored. Having a background in competitive sport and studies in sports, climbing hooked me in a way that the creation of new movements became super interesting to me.
Back then, there were only a few gyms, and above all, only a few that regularly put up new holds.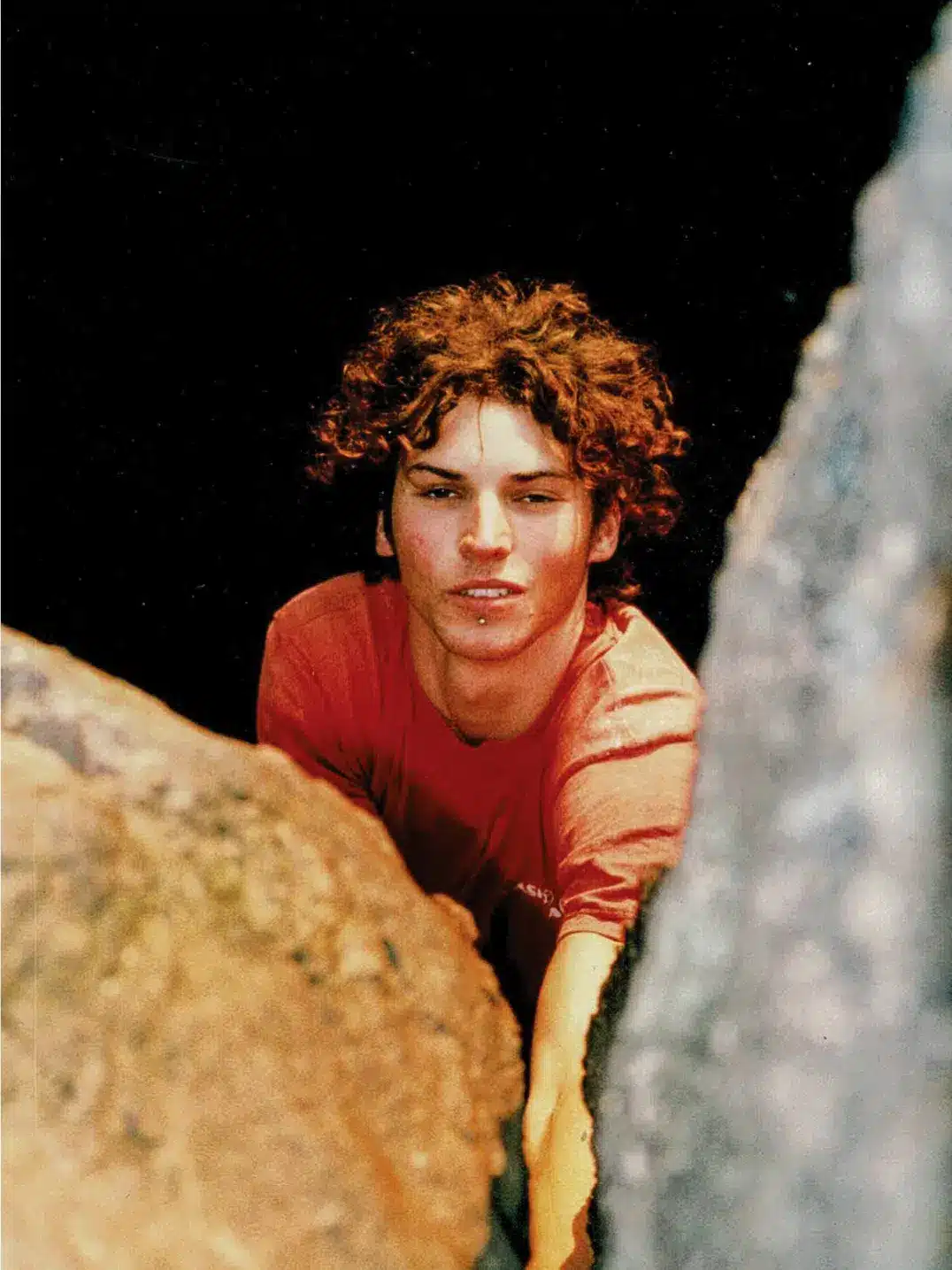 Caro: I can well imagine that you were totally thrilled from the very beginning! But I don't know what gyms looked like 20 years ago. Here with us in the Pegnitztal there was an old fire tower and also a former barn with climbing routes. But how was the gym situation in the cities? And did you really make route setting your proper job and earn your "daily bread" with it?
Dirk: Yeah exactly, there were already gyms, but not the boulder gyms and the route setting as we know it today. In 2000, route setting was not a job. New gyms were planned and built but creating new routes was not included in the running costs. I remember that there were routes that had hung on the wall for 10 years back then.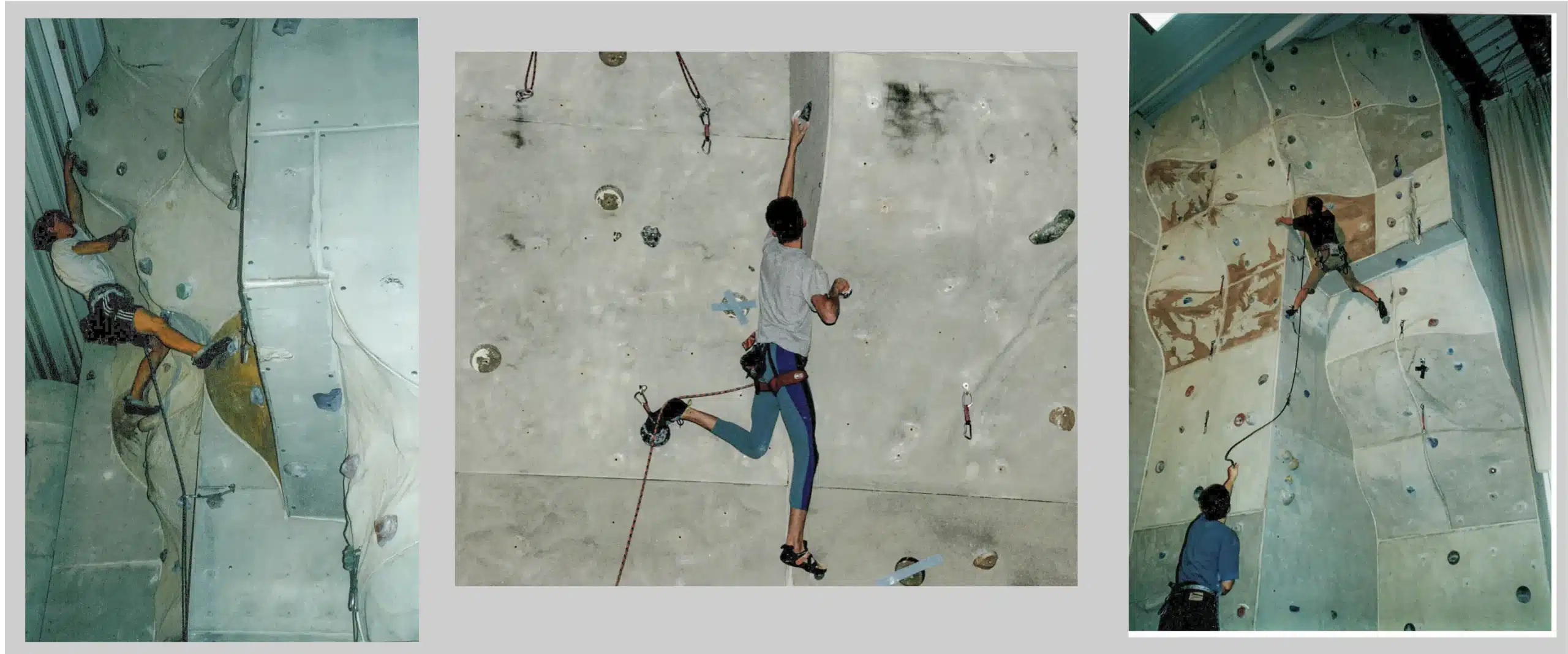 So I directly slipped into competitive sport in 2001 and set up my first championship. From then on, route setting was a job in which I could express and develop myself.
Now, I've logged over 300 competitions (where I've been part of the route setting team). I don't know if I'm a better route setter now, but I certainly had the opportunity to make most of the mistakes and learn from them.
Caro: Let's get back to your career as a route setter - what were the most important stops on the way for you?
Dirk: 2006 was an important year for me - that's when I went "all in", I was able to get my national license and set for the German Championships. Later when the then national coach Udo Neumann brought me into the national team training, the matter became serious and demanding.
In 2013, Stefan and I built up the E4. That gave me a base to try out a lot, and above all the first national teams knocked on the door. Suddenly there were world champions in the gym who had heard that the E4 and our route setting could enhance their training and shape. Japan, Slovenia, France, America, … several national teams were provided with training, competition simulations or masters as our "masters of stone".
But the whole thing is a win-win situation! As a route setter I can only be good if I know the athletes.
Caro:  So you need the athletes to perform yourself, but what about them? Does a route setter need the athletes or do athletes need a route setter?
Dirk: Suppose you mastermind the craziest movements and they can be performed! A world without Jannja, Tomoa, Akujo, … would be so sad for me! I learn from the athletes and they learn from me what the human body is capable of!
Caro: Understood - but how do I benefit from you setting the orange boulder problems that I climb, when you are actually skilled to create boulders for the very best people of our sport?
Dirk:  A lot - because in fact, we all want the same - to reach the top! A huge amount of empathy is needed to create a route in a way that the target group is both appealed and challenged. And ideally the route also looks great! I was able to acquire this ability at competitions - no matter if it was a kids cup, junior competitions or a world cup.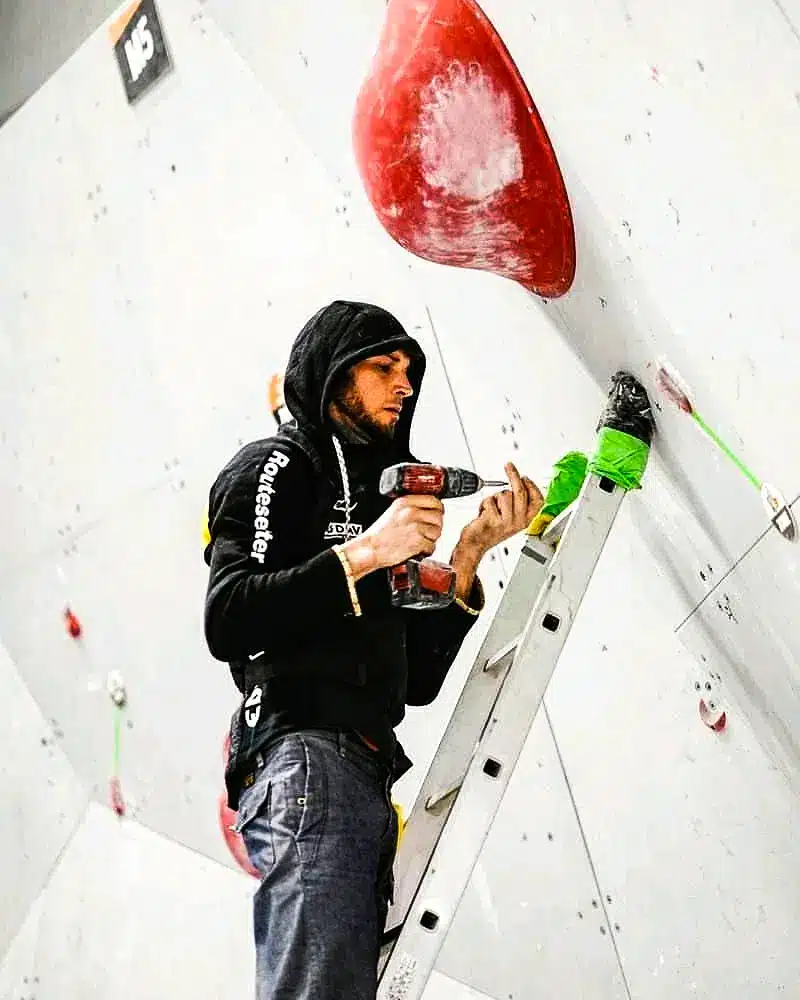 In 2015, I got the chance to be part of the route setting team for the Munich Boulder World Cup. Afterwards I was addicted to the atmosphere and the pressure to create the perfect boulder and I was in search of an international license. A very big thanks goes to Stefan, because in consequence I have been on tour around the globe setting routes for top athletes for 30 weekends. I was glad to be able to study every climber.
Caro: Well, I really hope Otte reads our article here and is pleased with your words!😉 What about the everyday tasks of an international route setter? What are you doing when you aren't hanging around in E4 or jetting around the globe?
Dirk: Under national coach Urs Stöcker, I supervise the training camps of our German national team as well as simulations and competitions as a technique trainer. We try to hook up the team with various skills so they can compete at an international level. Therefore there is a lot of analysis of the ongoing competitions as well as the observation of other national teams - especially the world class athletes - and for sure the development of route setting in the future.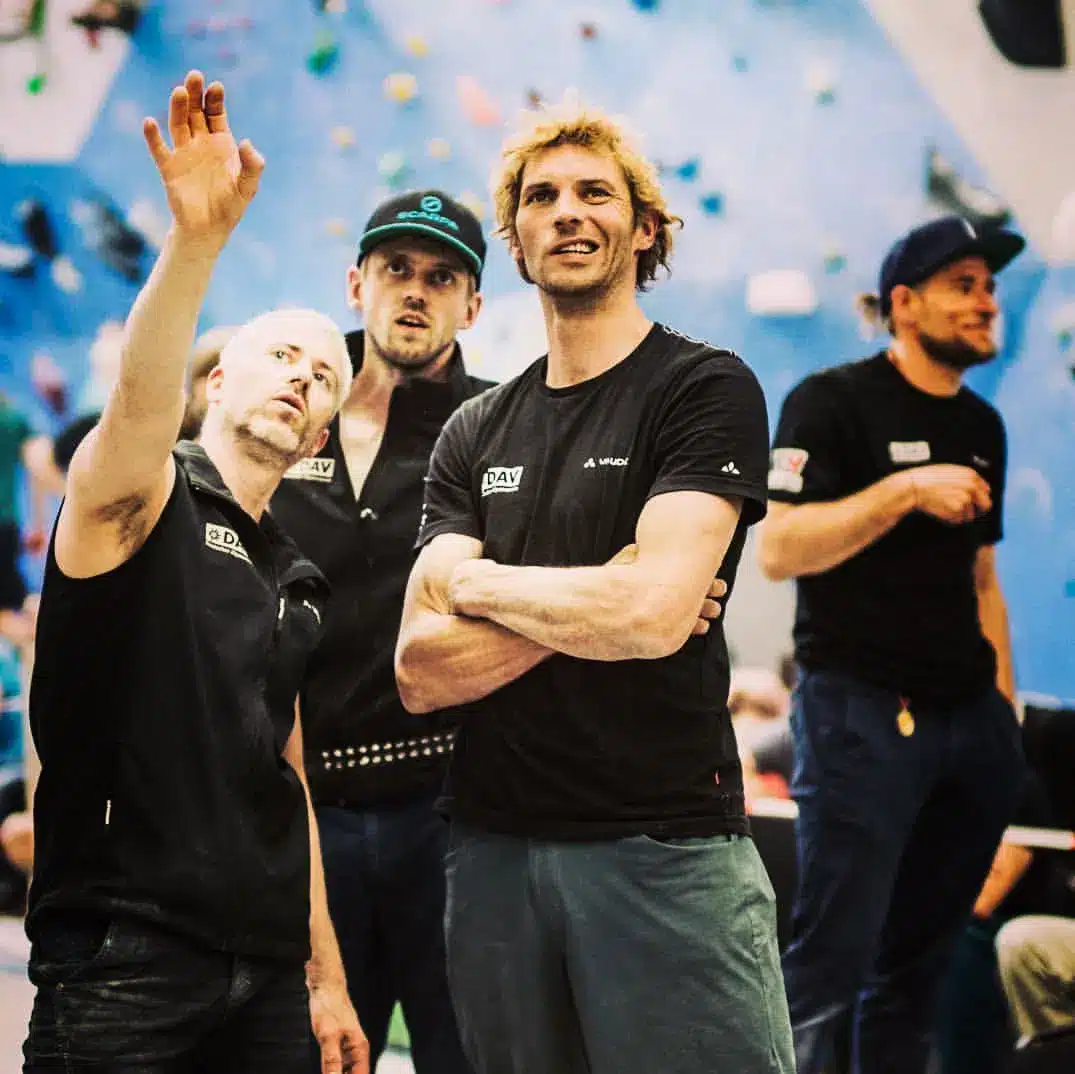 Caro:  And how did you gain your new position?😉
Dirk: The IFSC (International Federation of Sports Climbing) accepted my application and now I am Continental Chief Routesetter and next to Christian Bindhammer, the only German who is allowed to set routes for international comps!
Caro: Does it change anything for us at E4?
Dirk: We are known for a varying and imaginative style of route setting! Therefore we have a super motivated team under Armin Mittesser. In recent years, there were so many creative minds who were part of our team who pushed the level to reach all climbers and challenge them with crazy boulder problems. We've got the ambition to always improve the whole thing!
Caro: So, do I have to be afraid that from now on there will only be world cup boulders with crazy jumps?😂
Dirk: Not at all!😉 Because moves that are possible for Jannja Garnbret, the olympic champion, can be adapted so that they are part of a green boulder. Anyway we've got about 60 boulders in one colour so that the amount of variety just increases even further. And the playground for the route setting team to live it up and to let their creativity run free is mainly concentrated on the competition wall.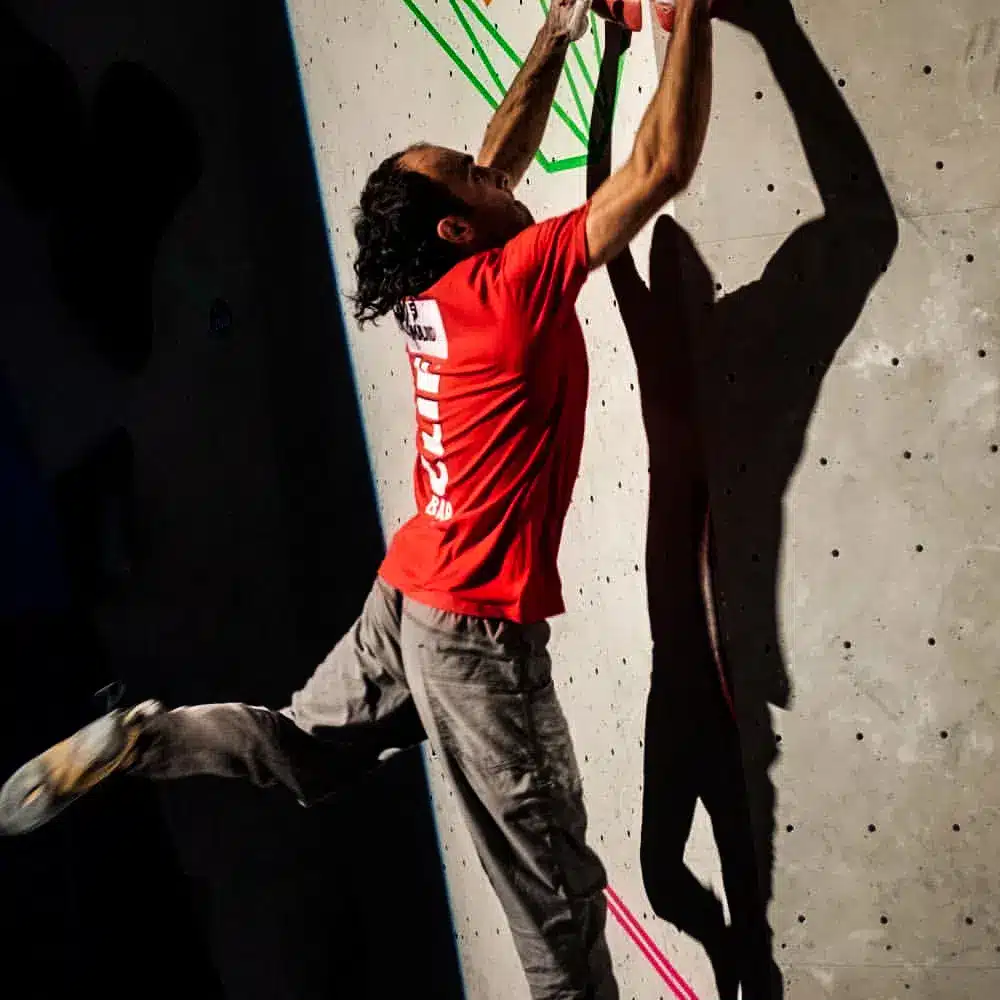 Caro: So what else will change - what will also change for you?
Dirk: You will surely meet more and more people in the gym who are incredibly good at climbing! The athletes are always seeking chances to improve. For sure, they will end up in the E4. It would be unfortunate if at the next World Cup I had created a problem with moves that they haven't done at least once before.
The World Cup Level is continuously changing and especially since "climbing at the olympics" became a topic, World Cups exploded. There was a peak of 350 starters, which brought us working days of 21 hours. And numbers of spectators are up to 1 million. That's when you are so tensed and motivated that everything will be better than perfect! That's the pressure to perform that I need dead on time 😁
Caro: I am really looking forward to the changes and the strong climbers and these new moves from you and I already say "THANK YOU, Dirk, for the insights." I wish you to keep your joy in creating routes and the pressure you need for it! 🙂 Would you like to round off your story?
Dirk: In 2000, I certainly had no idea that I would become International Chief Route Setter in 2021. The journey ends here, as it is the highest qualification a route setter can earn. But to be honest, it's a new beginning - a beginning to become a better route setter!
And I have to say thank you! To everyone who has supported and encouraged me on this path: First and foremost, my friends and route setting colleagues who share this passion with me, all athletes who had to "suffer" from my mental expressions, the E4 as the perfect playground to to try new things, all the trainers, and the DAV who motivated me to get better.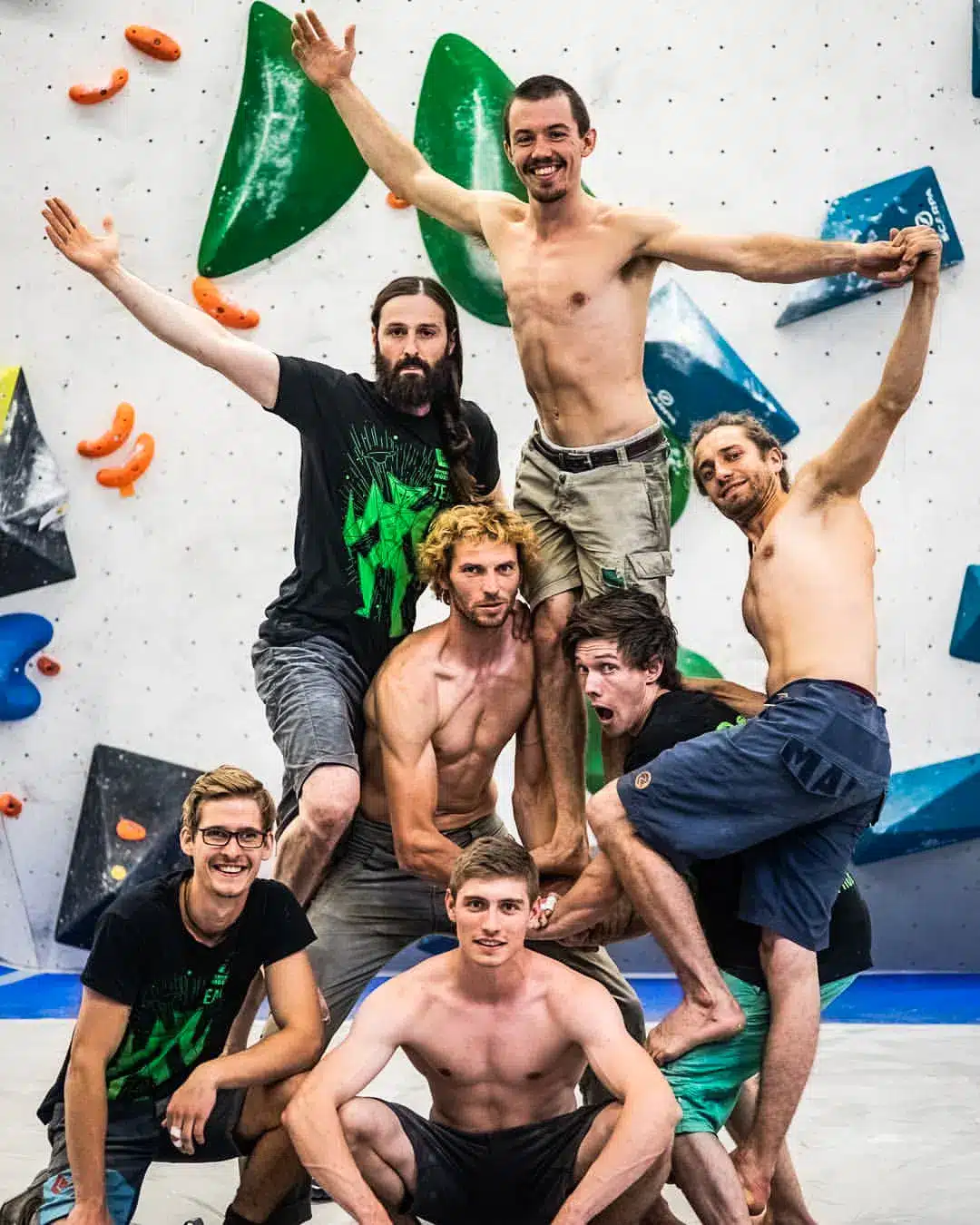 ---
For every Solution a Problem - Check out the newest creations of Dirk and the E4 route setting team: new boulders every week! 💪
---
Want even more insights into route setting? Then check out an older interview with Dirk by Kletterszene: Link.
And if you've only ever associated pogo with punk rock, then we recommend this training video by Einfach Klettern with who else than - our Dirk: Link.
---
Bilder: Privatarchiv Dirk
Text: Dirk Uhlig & Caro Taubmann